Tall Ship in Dingle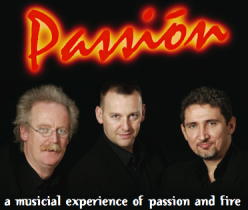 Yesterday, the Spirasi Tall Ship Challenge Against Torture arrived in Dingle. Along with the boat was the group Passion, made up of Pat Collins (The Café Orchestra), guitarist Drazen Djerek (The Chieftans) and singer Tony Norton (The Three Irish Tenors and Druid). They performed in the Marina Bar rather than the pier because of worries about the weather, and it was something to hear O Sole Mio blasting out of a place more used to trad music.
For anyone interested in supporting them, the ship calls to Cobh, Waterford, Wicklow, and will be back in Dublin on Monday for the UN Day in Support of Victims of Torture.
Technorati tags: Dingle, Passion, torture, victim, tall ship, music
This entry was posted on Wednesday, June 21st, 2006 at 1:37 pm and is filed under Dingle. You can follow any responses to this entry through the RSS 2.0 feed. You can leave a response, or trackback from your own site.