Irish Chocolate – Cocoa Bean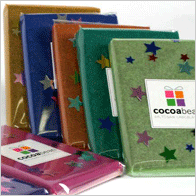 In terms of artisian food, Ireland has long been known for cheeses, but until quite recently, there was little in terms of artisian Irish chocolates. Obviously some chocolate companies have been around for a long time, but chocolate in Ireland has until fairly recently been defined by Cadburys. Needless to say, that was not much solace for chocolate lovers, but happily things are rapidly changing for the better.
One of the companies to look out for, if you don't know them already is Cocoa bean. Based in Limerick and around since 2002, this company does bold chocolates in interesting packaging.
Their flavours are strong, and they do a variety of unusual combinations.
Their chocolate crunch and fruit and nut clusters are definitely addictive.
Technorati tags: chocolate, cocoa, Irish, Ireland
This entry was posted on Monday, June 19th, 2006 at 3:41 pm and is filed under Chocolate. You can follow any responses to this entry through the RSS 2.0 feed. You can leave a response, or trackback from your own site.