 Fungie is clearly not the only mammal who finds Dingle an attractive place.
For the last few weeks, and seal has taken up residence on the pier next to my parent's house in Cooleen.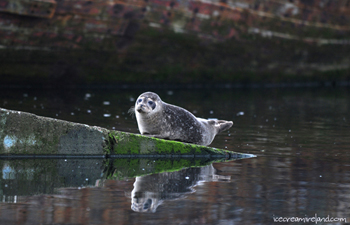 I think it's a pup or perhaps just a small one. In any case, he's very, very cute.
Naturally he's not there all the time, but if you want a chance to see him, walk along the breakwater where the Fungie boats are parked. Look for the old wreck of a boat. The slip is just in front of it.
Let's hope he sticks around!