One of the greatest pleasures of opening shops in Dublin has been working with Colin, the current Irish Barista Champion and maestro behind Third Floor Espresso. He's sourced a biodynamic, Brazilian bean for us from Has Bean in the UK and agreed to help with training. I'm so happy to have the chance to spend time with and learn from from someone so passionate about coffee.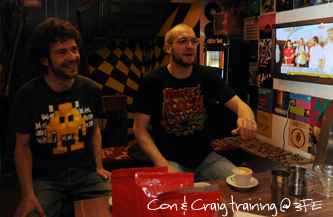 Not only does he have a lot to pass on in terms of barista skills and coffee appreciation, but he also has a great philosophy about empowering baristas and fostering a sense community. The feedback from those in our team who have spent time training with him has been extremely positive, and I feel totally confident that he will help us improve our standards.
If you're in Dublin and love coffee, I recommend that you drop in to his shop (in the Twisted Pepper building). It's still quite new but already is a Dublin treasure.
If you do stop in, wish him well, as he's heading off soon to represent Ireland at the World Barista Championships. We'll keep our fingers crossed for him.