Hello, Dublin Team!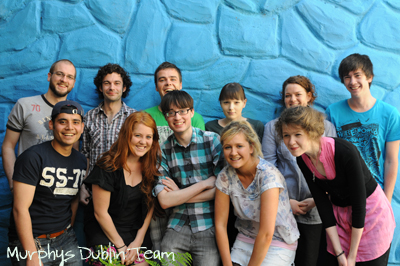 Say "Hello" to our Dublin team! We've done our hiring, and I think we have a super team of people to launch our Dublin shops. They're all in Dingle for a week of training (eating ice cream, drinking coffee, etc.) and hopefully are having a great time. With the weather here in Kerry, Dingle looks it's best, and it's such a buzz for all of us to have the new energy and enthusiasm of this group of people.
I have to head back to Dublin tomorrow to keep things moving along, but if any of you are around, come in and meet the Dubs!
This entry was posted on Monday, May 24th, 2010 at 7:10 pm and is filed under Dublin Shops. You can follow any responses to this entry through the RSS 2.0 feed. You can leave a response, or trackback from your own site.