Killarney really knows how to do Christmas celebrations, and the people of the town put in an tremendous effort to make the events happen. The annual torchlight children's parade, that wound its way through town last night, is my highlight.
There were hundreds of kids taking part and lining the streets, and of course Santa made an appearance, complete with motorcycle escort.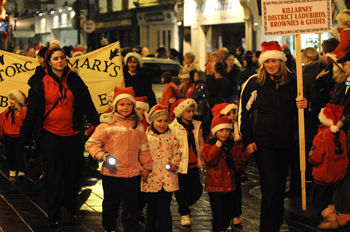 It's great to have a Christmas even that is not connected to shopping, and it's a way of making the whole season really special for children. The abundant joy of all taking part was amazing to see, especially in these depressed times.
Every Irish town should have one!