Archive for October, 2009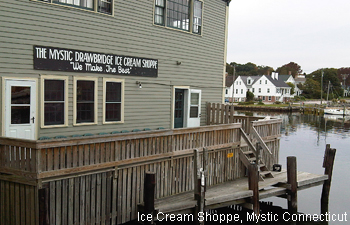 Some time ago, I asked you, dear readers, for the best ice cream shops in the US. I have never received so many comments and suggestions, and I thank you for them!
My brother Sean has headed over now, your suggestions in hand, and he is doing an ice cream dash. Above is a photo he just sent, taken on his way to Boston from New York. 
I'm hoping that he will write a guest post (or three) summing up his US ice cream experience.
I AM SO JEALOUS!!!!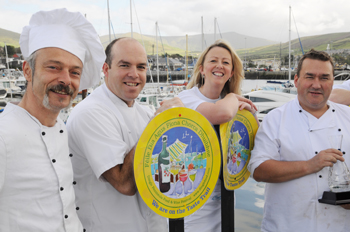 I can only say in my defense, about the delay in writing about last weekend's Dingle Food and Wine Festival, that it was such a good weekend that it's taken me this long to recover! Bibliocook was fast off the mark, and of course there have been newspaper articles since, including this one.
Still, as one of the organisers, I have to say it was quite astonishing to watch it all unfold. This is the third year, and it's grown every year. Recession? Taste tickets sales were up 50% this year. In fact, we have figured that there were 17,000 portions of food sold over the weekend, and that doesn't include shops or the markets!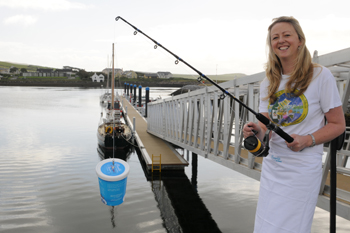 My favourite part of the food festival is the taste trails, and there were a huge increase in venues over the last year. From wine tastings to shark grilled on the pier for charity, there is such a variety of nibbles and such good value. If I hadn't been so busy in the shop, I could have spent the whole days wandering the markets and the taste trail. It was foodie heaven.
I was lucky enough to have a sublime meal as well at Out of the Blue, with excellent company, and walking back from the restaurant, the moon was full, and the night was perfectly clear and still. Pauline Scanlon was singing with Tommy O'Sullivan in the Marina bar, there was a barbecue still in full swing at Murphys Pub, and the street was full of relaxed, happy people. It was one of those magic nights that one wishes would never end, and for me it didn't end for a long time.
That's one of the reasons for this belated post. Who cares, though! Well done to everyone who helped make it happen, and there were hundreds. A special thanks to Martin and our own Niamh. Roll on next year!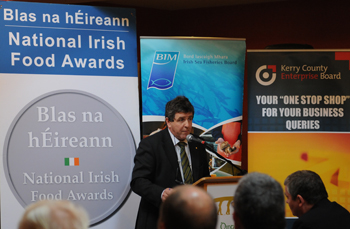 The winners have been announced for the 2009 Blas na hÉireann Irish Food Awards after an awards ceremony in Dingle (that's Peter Ward of Country Choice above, who was the MC).
Congratulations to the winners. Even though I've been less involved this year because of the baby, it's amazing to be a part of it and see the variety of foods around Ireland.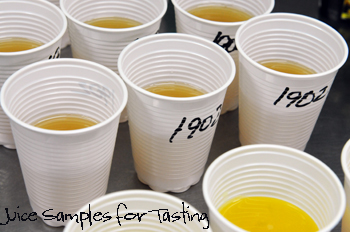 The Supreme Champion this year is an Irish ice cream company, Silver Pail Dairy. Well done! (By the way, they are also Murphys, and according to my father are cousins – linking back to my great grandfather in Kiskeam, Co. Cork).
Congratulations again to ALL the medal winners. The full list is here.
Hopefully next year we will have an on-line component to the awards. I think it would be very strong if consumers could nominate their favourite products!
You are currently browsing the Ice Cream Ireland blog archives for October, 2009.
Recent Comments

Grannymar: Sounds wonderful, Kieran, but I feel left out. Maybe by the...
Grannymar: Wrong colour for today, Kieran! Now I have an excuse to go down to...
Courtney: This sounds extremely appetizing if you are a fan of fresh mint,...
Courtney: This sorbet looks really light and perfect for a summer occasion....
Courtney: This ice-cream sounds perfect for the spring and summer seasons....
Courtney: This butterscotch recipe looks very interesting. The first thing...
Courtney: This recipe looked really good which is what initially grabbed my...

Recent Posts

Categories

Archives