Murphys in Dublin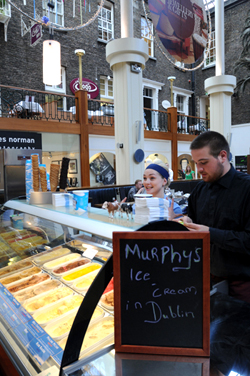 We're just about up and running in Powerscourt Centre, where we will have the first Murphys Ice Cream scooping cabinet in the capitol. It's a collaboration with Jay Burke's Powerscourt Townhouse Cafe, and while we've been selling 500ml tubs in Dublin for a while now, it will give our Leinster customers a chance to have a scoop of Murphys without driving all the way to Kerry!
We have a launch party this afternoon, and if you're a fan of Murphys and in Dublin, click here.
This entry was posted on Friday, June 19th, 2009 at 9:51 am and is filed under Dublin. You can follow any responses to this entry through the RSS 2.0 feed. You can leave a response, or trackback from your own site.