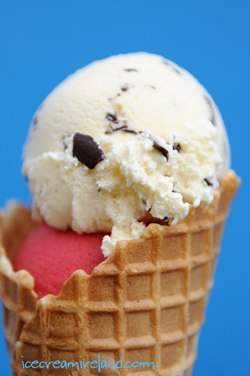 Business is a funny thing. Some things can be easy, and some things hard, and it's difficult to predict in advance which will be which. The most annoying issues are ones that really aren't that big, ones that should be easily solved, but for whatever reason we just can't do so.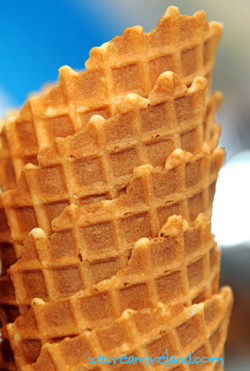 One of these issues has been cones. My brother and I have always been a fan of waffle cones, and when we set up the business, we had never thought we would serve anything else. However, finding cones we liked (and were reasonably priced) was quite another matter. We did find some decent ones early on, but so many of them kept arriving broken, that we gave up. We've been looking and looking, for almost nine years. 
Time went by, and we served our ice cream on wafer cones instead, even though we never were that excited by them. We explored the possibility of making cones, and we ordered up samples when ever we heard of a source somewhere in Europe.
Anyway, problem solved! My brother managed to find a company making great waffle cones, and we've just received a few pallets of them. They are extremely tasty, and they are in one piece. 
It looks like the end of the wafer cone is nigh at Murphys. Finally.