Now, That's A Whiskey!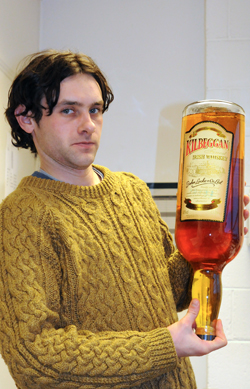 Just in case you're wondering, the bottle JP is holding is not our strategy for keeping up our spirits during the recession. It's Kilbeggan whiskey from Cooley, Ireland's only independent whiskey distillery. We love it in the ice creams (it's a great, malty, robust drinking whiskey as well), and we're going to switch over to using it exclusively (we have been using Paddy or Jameson, however not only do we prefer the Kilbeggan, but it's great to support an independent Irish company).
Technorati tags: cooley, ice cream, whiskey, kilbeggan
This entry was posted on Monday, February 16th, 2009 at 7:24 pm and is filed under Ingredients. You can follow any responses to this entry through the RSS 2.0 feed. You can leave a response, or trackback from your own site.