In Thornton's Kitchen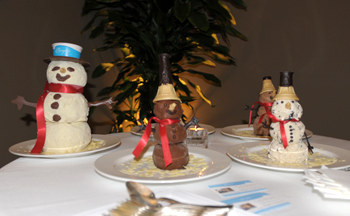 Yesterday evening, we went along to Thornton's Restaurant for the press launch of a new, 6 part, foodie radio show on Newstalk that will air starting on Christmas day. Presented by two gastronomical bloggers - Kevin and the lovely Caroline, and produced by Soundsdoable, it should be great fun, as was the evening. Fingal was there from Gubeen Farmhouse, as well as Carmel from Good Things Cafe, Aoibheann from Ard Bia, Ross from Food and Wine and many others. We snacked on some great treats Kevin whipped up, as well as Fingal's cheese and a bit of his cider. As for the ice cream, Kevin was kind enough to let us use his kitchen, and we built a few ice cream snowmen! 
Foodtalk on Newstalk radio schedule is as follows:
Program 1: "Livestock" (Christmas Day, 1.30pm)
Kevin Thornton and Caroline Hennessy hunt down some fine meats and discuss Kevin's project to rear Irish Kobe beef.
Guests: Jacque Barry from Jacques Restaurant, Cork and Fingal Ferguson of the Gubbeen Smokehouse, Schull, West Cork
+ Program 2: "Seafood" (New Year's Day, 4.30pm)
Kevin Thornton and Caroline Hennessy share their pleasure in eating seafood.
Guests: Tony Daly from The Lime Tree, Kenmare, and Paul Kelly, mussel farmer and goldsmith, from Kilmackillogue
+ Programme 3: "Spices" (11th Jan)
Kevin Thornton and Caroline Hennessy marvel at the power of spices.
Guests: Carmel Somers from The Good Things Café, Durrus, Co Cork and Arun Kapil of Green Saffron, Midleton, East Cork
+ Program 4: "Wild Food" (18th Jan)
Kevin Thornton and Caroline Hennessy gather up an armload of free, wild food.
Guests: Áine Maguire from Kueppersbusch and Seamus Moran of LoTide Gourmet Sea Vegetables, Westport, Co Mayo
+ Program 5: "Dairy" (25th Jan)
Kevin Thornton and Caroline Hennessy explore all things creamy.
Guests: Aoibheann McNamara, Ard Bia, Galway and Kieran Murphy from Murphy's Ice Cream, Dingle
+ Programme 6: "Garden" (1st Feb)
Kevin Thornton and Caroline Hennessy marvel at the good things a garden has to offer, and wonders how many more of us will now start to grow our own.
Guests: Henry Stone from The Sha-Roe Bistro, Clonegal, Co Carlow and Ultan Walsh of Gort-Na-Nain Organic Farm, Nohoval, Cork, who grows the veg for (among others) Denis Cotter of Café Paradiso.
This entry was posted on Tuesday, December 9th, 2008 at 10:50 am and is filed under Awards, Press, Publicity. You can follow any responses to this entry through the RSS 2.0 feed. You can leave a response, or trackback from your own site.