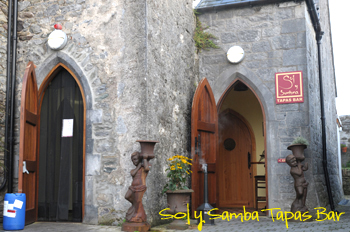 Even thought I'm in Killarney all the time, I very rarely get to Killorglin, though it's a minimal detour. A few days ago, I had a bit of time to kill and a bit of hunger and decided to check out the offerings.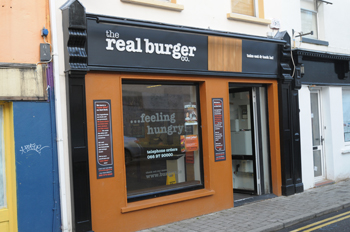 One of my excuses for going was to visit the Real Burger Co. (photo right), who have recently become a customer. They seem to be doing quite well, and really take effort with their menu and range of gourmet burgers (not to mention the ice cream!). I like their website as well.
We decided for food, however, to have more of a sit down meal and went to Sol y Samba (photo top) for some tapas. The restaurant is in a former church on top of a hill, and it certainly has one of the nicest interiors of any restaurant in Ireland. With Spanish staff, a good range of wines, and even some entertainment from time to time, it's a great asset to the town.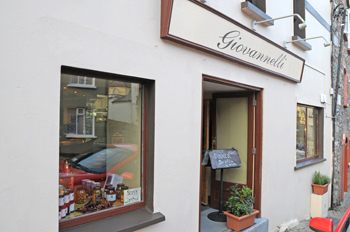 Another place worth a mention is Giovannelli Restaurant. I met Daniele at the Dingle Food Festival last year, where he was selling fantastic Italian produce at the farmer's market. His new place seems to be quite popular (it was fully booked on a weeknight), and the offerings look appetising indeed.
We had to be content with picking up some Italian cheese from the deli counter at the back of the place (he also has a range of Italian meats and sausages).
If you're in Killorglin, you're certainly not going to go hungry!
Technorati tags: Kerry, restaurant, food, Killorglin, ireland