Live from the Kingdom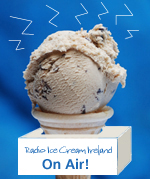 My brother and I going to be on Radio Kerry this evening at 6:00 with Weeshie Fogerty talking about things ice cream. You can listen live here.
This entry was posted on Wednesday, August 13th, 2008 at 2:50 pm and is filed under Awards, Press, Publicity. You can follow any responses to this entry through the RSS 2.0 feed. You can leave a response, or trackback from your own site.