BBC and Silicon Republic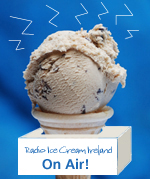 For those of you in Ulster, I'll be on BBC Northern Ireland's Weekend Magazine tomorrow morning (Saturday) at around 10:45 am to talk about ice cream and the book. You can listen on-line here.
There is also a Silicon Republic article on business blogging that mentions us (also printed in yesterday's Independent)…
This entry was posted on Friday, May 16th, 2008 at 4:53 pm and is filed under Awards, Press, Publicity. You can follow any responses to this entry through the RSS 2.0 feed. You can leave a response, or trackback from your own site.