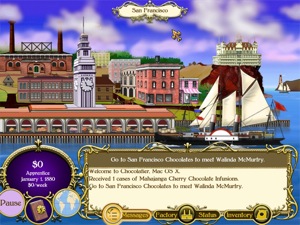 If you have a Mac, love chocolate, and want to try your skills at becoming a chocolatier, I came across this computer game: Chocolatier by Play First.
The blurb reads:
Become a master chocolatier one ingredient at a time as you travel the world to find the best prices and maximize production but dont forget about those conniving competitors who wish you poorly! Do you have what it takes to conquer the world through chocolate?
Just beware of price fixing!
Technorati tags: chocolate, chocolatier, game, price fixing, Mac