The Cure for a Cough?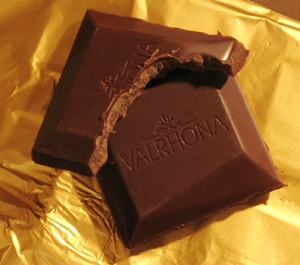 I have written about the health benefits of chocolate before, and there was an article on the topic in yesterday's Tribune, which you can read here. What surprised me was the mention of a 2004 study from Imperial College London that chocolate is 30% more effective than codeine in suppressing coughs. I had never heard that one before, but the study shows that theobromine, a chemical found in cocoa and known for its health benefits, works better for easing coughs – without any of codeine's side effects.
So, if you've given up chocolate as part of a New Year's resolution and are coughing away, you might think again! A chocolate bar with high cocoa content might just save you a trip to the chemist. Mind you, if you're like me and such a resolution would be unthinkable – it's simply yet another good excuse to keep munching.
Technorati tags: chocolate, cocoa, cough, theobromine, health
This entry was posted on Monday, January 21st, 2008 at 3:22 pm and is filed under Chocolate. You can follow any responses to this entry through the RSS 2.0 feed. You can leave a response, or trackback from your own site.