Yauco Selecto Coffee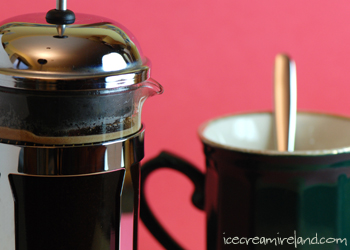 Both of our shops are closed for the month, and that's always difficult for me in terms of coffee. I need my daily fix, and I miss having good coffee on call! What I usually do is revert to my home cafetierre (photo above) using our organic Fairtrade bean or top up with a hit from my stove-top espresso maker.
I have written before about Yauco Selecto beans from Puerto Rico, and yesterday I brought some home. For anyone who hasn't tried Yauco, it is defintely worth the splurge (the beans are very expensive). We have offered Yauco in the shops for a while now, and those who tried it, loved it. This bean is not good for espresso, but makes a great cup of coffee.
The result this morning, using a medium-fine grind for my cafetierre, was delicate and smooth, with a little hint of fruit and enough body to invigorate a damp, cold January morning. For those who like milky coffee, it also makes a wonderful, refined cafe au lait – simply heat some milk up to a simmer and add it in using a ratio of about 1/3 milk to 2/3 coffee…
Technorati tags: Yauco Selecto, bean, coffee, organic, Ireland
This entry was posted on Wednesday, January 9th, 2008 at 12:09 pm and is filed under Coffee. You can follow any responses to this entry through the RSS 2.0 feed. You can leave a response, or trackback from your own site.