Upscale Beans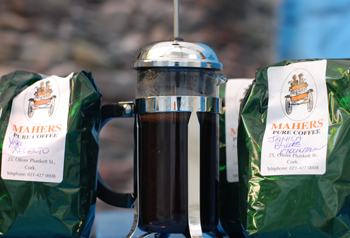 Pat, our coffee salesman brought us some of his better beans this week for our tasting pleasure. Included was a bag of Jamaican Blue Mountain, Yauco Selecto from Puerto Rico, and Mysore from India.
We've been toying around with the idea of offering an upscale cup of coffee for connoisseurs, or maybe offer a selection of several. It can get extrememly pricy for these beans, but it might a great treat for a coffee lover.
All of the coffees are more subtle than our current Organic Fairtrade bean. Our favourite so far was the Yauco Selecto – nice balance and not bitter in the slightest…
Technorati tags: Blue Mountain, Yauco Selecto, bean, coffee, organic, Ireland
This entry was posted on Friday, May 4th, 2007 at 6:38 pm and is filed under Coffee. You can follow any responses to this entry through the RSS 2.0 feed. You can leave a response, or trackback from your own site.