Dingle Goes Through!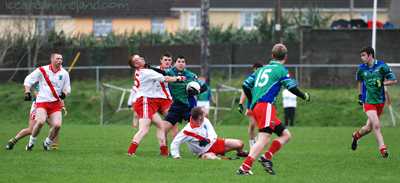 Dingle beat the might of An Gaeltacht yesterday in the West Kerry Semi-Final Replay in a major upset: 8-7 in a close match. I love going to some of the local games, where you can see players that have become so famous for their county scrapping it out in front of a small crowd.
Of course, you could just call it procrastination from writing the ice cream book!
Technorati tags: Dingle, football, Kerry, GAA
This entry was posted on Monday, November 19th, 2007 at 12:39 pm and is filed under Dingle. You can follow any responses to this entry through the RSS 2.0 feed. You can leave a response, or trackback from your own site.