Royal Ice Cream?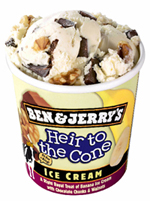 Some of you might find this amusing… I have just received a press release from Ben & Jerry's. Before I go any further, anti-royalist republicans should avert their eyes! Anyway, the press release reads in part:
To celebrate Prince Charles' special day tomorrow, Ben and Jerry's have rustled up a bespoke birthday treat… This limited edition ice cream is a sweet gift for the guy who has everything – and sure to make for one cool birthday when it lands on the Prince's doorstep tomorrow.

"Heir To The Cone" is creamy banana ice cream, walnuts and chocolate chunks. Of course, only the finest ingredients were used in the ice cream fit for a king (to be)!
Given the prince's predilections, you would have thought they would have made it organic, but we hope it sweetens the day…
Technorati tags: Prince Charles, Ben and Jerry, Heir to the Cone, ice cream, birthday
This entry was posted on Tuesday, November 13th, 2007 at 5:37 pm and is filed under Musings. You can follow any responses to this entry through the RSS 2.0 feed. You can leave a response, or trackback from your own site.