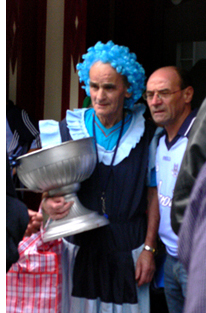 I went up to Dublin with some friends this past weekend for the clash of Kerry against Dublin, and am back in Kerry again quite tired!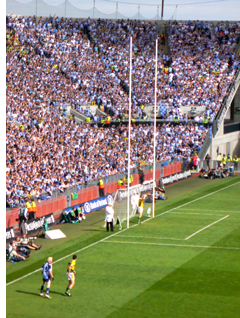 It was a great fun, not just because Kerry won. There was brilliant atmosphere, and I had my first encounter with the pheomenon of Hill 16 full of Dubs (photo right) albeit from a safe distance. Dublin fans are quite impressive and sure know how to make noise!
Other highlights of the trip were a delicious smoothie from Fallon & Byrne, which went some way toward healing a hangover. Tasty sandwiches from the same got us through the match. I didn't have such good luck finding a decent cappuccino, though, even though we tried several new places (when will baristas finally stop burning the espresso and scalding the milk?)
On Saturday night, we ate at the Mermaid Cafe, then moved on to Mulligans (the great culchie meeting place), then the Palace Bar, and from there spotted former Kerry great, Bomber Liston, among other familiar faces.
The All-Ireland beckons, and my head hurts already…