Gelato alla Crema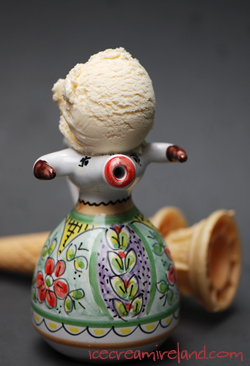 This is the recipe for the Irish Times article that ties into the previous post…
Gelato alla Crema
Ingredients:
500ml milk
250ml cream
200g sugar
6 egg yolks
What to do:
Beat the sugar and egg yolks together until thick and pale yellow.
Bring the milk to a simmer.
Remove from the heat.
Beat the milk into the eggs and sugar in a slow stream.
Pour the mixture back into pan and place over low heat.
Stir until the custard thickens slightly (around 70C).
Immediately transfer into another container and place in the refrigerator until cool.
Whip the cream and fold into the mix.
Freeze using a domestic ice cream machine, or cover and place in the freezer.
Technorati tags: gelato, ice cream, crema, dessert, recipe, Irish Times
This entry was posted on Saturday, August 25th, 2007 at 1:14 pm and is filed under Ice Cream. You can follow any responses to this entry through the RSS 2.0 feed. You can leave a response, or trackback from your own site.