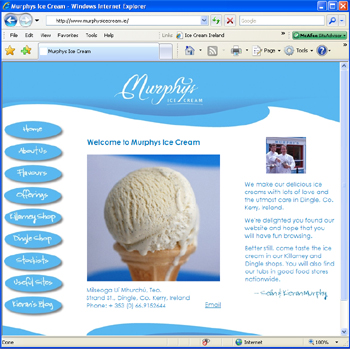 Things are getting quite crazy here in the world of ice cream as we really enter the height of high season! Bad weather or not, we're busy! Mind you, it seems that here in Dingle we've been spared the worst of the weather that has hit the East Coast of Ireland and the UK. We've had our sunny days!
Most of my time is spent keeping things going and trying to give our customers attention, but I've also managed to finish our new website (photo above). One thing I love about technology these days is that it has become much more democratic. There are so many tools out there that it's not necessary to hire a webmaster or farm it out. So this time, we did it ourselves. Our site might not be perfect, but I'm happy with it, and it wasn't even all that time-consuming… Ruth at Urru was asking about it, so here's a link for the software we used. It cost a whopping $49…
Yesterday, my brother and I made a mad dash up the country for a meeting with our distributor, and on the way back we stopped for a quick snack at La Cucina in Castletroy, Limerick. Lorraine wasn't there, but we met her mother, and this little place has a great vibe and a steady stream of visibly happy customers. There are all sorts of Italian goodies on the walls to take home as well. We didn't have time to sample the coffee or tempting display of sweet things, but the pizza and pasta certainly helped us make it home safe to Kerry. Thanks, Lorraine!