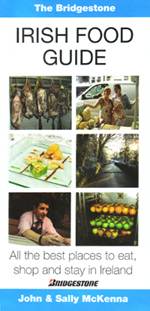 When Lorraine tipped me off that the new Bridgestone Irish Food Guide was out, I was very excited. My brother Sean bought me a copy when he was in Dublin, and now I have it in my hands. I am delighted, and not only because we were given a great mention in it. This book is very useful.
My old copy is quite worn at this stage – creased, stained and dog-eared from many trips around the country, and it is a little out of date. For me it has been a invaluable tool when travelling in Ireland, in finding good food in odd places and in discovering culinary treasures, and I strongly suggest that any Irish foodie or visitor exploring this country purchase the new one immediately. John and Sally McKenna are great at what they do, show a remarkable amount of love for it, and they are spot on in their suggestions. I can't say I have ever been led astray by their guides, and I use them all the time.
What makes me very happy as well is how the guide has swelled. It is now around 500 pages, and I don't think it reflects any drop in standards by the McKennas, but rather the proliferation of Irish artisan foods and the increasing wealth of choice for food-lovers in terms of eateries. Happy days indeed.
By the way, I'm also pleased to see that some other Irish food bloggers were included – besides La Cucina, you will find Bubble Brothers and Ummera.
You can ask for the Irish Food Guide at your local bookshop or order it on-line here.
Technorati tags: Irish, Bridgestone, food, guide, Ireland, McKenna