Get the Scoop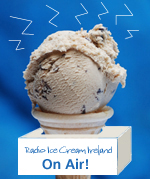 For anyone interested and near their radio, I will be on Drivetime with Dave Fanning on RTE Radio 1 this evening some time between 7-8pm talking about the Irish Blog Awards and ice cream.
(You can listen to the show here if you missed it. Damien Mulley is also on…)
This morning, I took part in my first ever podcast with the other finalists for the Business blogging award. It was organised by Krishna of Biz Growth News. I will post a link for it when it becomes available…
Technorati tags: drive time, radio, RTE, Dave Fanning, podcast
This entry was posted on Thursday, March 1st, 2007 at 3:21 pm and is filed under Awards, Press, Publicity. You can follow any responses to this entry through the RSS 2.0 feed. You can leave a response, or trackback from your own site.