The Irish Farmers' Market Cookbook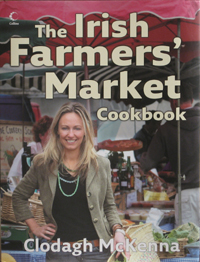 Before I write anything about Clodagh McKenna's new cookbook, The Irish Farmers' Market Cookbook (which no doubt will be one of the hot sellers this Christmas), I must state that I am very biased. I'm a big fan of her efforts in the Slowfood movement, her various shows such as Winter Food, and of her support for farmer's markets. As well as that, she's delightful in person, and she has included one of our recipes in the cookbook (Murphys white chocolate and rosewater ice cream).
The philosophy of the book is: use good ingredients (with love) and the final product (meal) will be good. Her recipes are a delicious excuse for exploring Irish food and ingredients. She writes "The markets… have given us back a connection with the food we are consuming. I've written this book as a celebration of all of the fantastic produce we have in Ireland…" Definitely a worthy sentiment!
Technorati tags: Irish, food, farmers maket, cookbook, recipe
This entry was posted on Sunday, December 3rd, 2006 at 1:54 pm and is filed under Musings. You can follow any responses to this entry through the RSS 2.0 feed. You can leave a response, or trackback from your own site.