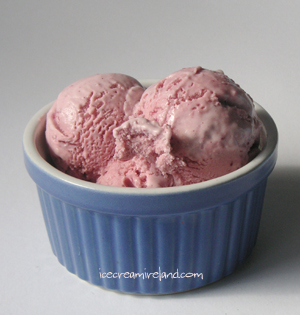 It's wonderful heading into autumn, because it brings up a whole new interesting set of flavour possibilities.
My last post was about blackberries, and yesterday I had occasion to wander around my back garden for the first time in ages.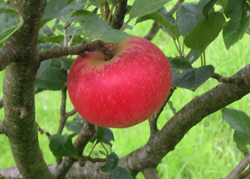 There, on the little apple trees planted by my landlady, were the most beautiful and tasty apples.
It didn't take much to put apple and blackberry together – those two fruits are made for each other, and I immediately went making ice cream… 
If you have access to both fruits, here's a recipe that yields a very cream dessert…
Murphys Blackberry and Apple Ice Cream
Ingredients:
1 cup Sugar 
5 Egg Yolks 
1 3/8 Cups Cream
1 1/8 Cups Milk
Juice of half a lemon 
1 Apple
What to do:
Make the blackberry coulis (recipe here)
Peel and core the apple, and blend together with the lemon juice and coulis as soon as you have strained the latter (it's more liquid when hot, which will make things easier). Refrigerate until cool.
Beat the sugar and egg yolks together until thick and pale yellow. 
Bring the milk to a simmer. Remove from the heat.
Beat the milk into the eggs and sugar in a slow stream.
Pour the mixture back into pan and place over low heat. 
Stir until the custard thickens (around 60C).
Allow the custard to cool.
Whip the cream until you have soft peaks. Do not over-whip!
Fold in the custard and blackberry-apple coulis.
Freeze using a domestic ice cream machine, or cover and place in the freezer.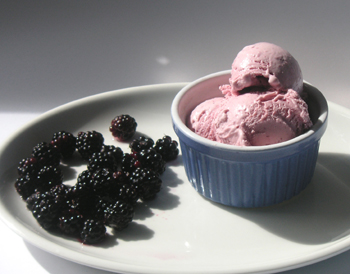 12 Servings
Notes: 1. You can add a bit of cinnamon or vanilla if it's to your taste.
2. To pasteurise the eggs, heat the custard to 73C and keep at that temperature for three minutes. Use a cooking thermometer, though, and keep stirring! If the custard goes any higher than 76C, the eggs will scramble. Immediately cover and place in the freezer until cool.
Technorati tags: blackberry, cream, apple, ice cream, recipe, Irish