Caffe Latte Freddo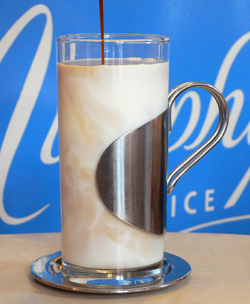 A customer in our Dingle shop told me about a coffee drink that she had come across in Italy. I had never heard of it and so I tried it out with good results. It's very simple – you take a glass of very cold milk and add a shot of espresso. With all the hot weather we've been having here it makes a refreshing way to get a coffee hit. The only downside is it is not a sipping drink. You tend to reach the bottom of the glass in a hurry!
Technorati tags: espresso, coffee, latte, freddo
This entry was posted on Friday, July 21st, 2006 at 10:32 am and is filed under Coffee. You can follow any responses to this entry through the RSS 2.0 feed. You can leave a response, or trackback from your own site.