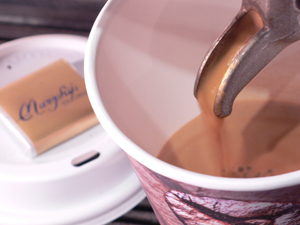 I'm afraid I was making coffees for most of the day, and hence I feel another coffee rant coming on. I'll limit it to two points.
1. Even before Starbucks made its inevitable entrance into Ireland, many cafes have tended to look more toward Seattle than Rome for a model. What Starbucks sell, in my opinion, is a feeling of validation about being busy, and that fits in well with the new Ireland. In other words, "I am so busy, I need a coffee THIS big to keep me going." We've recently bowed to customer pressure and increased the size of our take-away cups on our lattes, and sizes seem to be increasing rapidly all around us. The entire definition of a cappuccino or latte is rapidly changing away from the Italian model, and I think that's a bit of a shame. Is bigger always better? I always liked that little cup at an Italian street-side cafe…
2. Why do people order take-away espressos? I'm happy to serve anything to-go, but where are you going to take 1 oz of espresso? How far are you going to get? Will it not be cold before you get there? Wouldn't you rather have it in a warmed cup, down it in a few seconds (after all, it is called "Espresso" i.e. "fast"), and be on your way?
Technorati tags: espresso, coffee, cappuccino, latte, Irish