Archive for the 'Candy, sauce' Category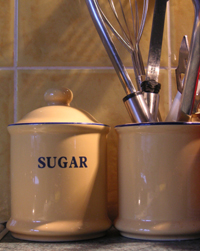 As we've been refining our caramel recipe, it occurs to me again that sugar is amazing. Especially as Irish sugar production is dwindling, it seems like a little paean of praise is in order.
You have this white, hard substance that dissolves into a clear liquid, sweetens everything it touches, turns into candy when cooked to a certain temperature, and it can be spun, pulled, and hardened. In all its various forms, it provides happiness to people every day. There might be health concerns and visits to the dentist, but we still have dessert at the end of a meal because it makes us feel good, and that's not a bad thing at all.
The crusaders brought the first sugar back to Europe (and it got to the Mid-East from Polynesia via India, Persia, etc.) along with numerous enlightening discoveries learned from the Arabs. I am happy that they did, and surprised and grateful that they didn't eat it all on the long trip back home. Otherwise, we'd be working with honey, and you can't make caramel sauce with honey!
Here's a recipe if you want to try it. Good luck. It's not the easiest thing to make. Please take care, because melted sugar is dangerously hot!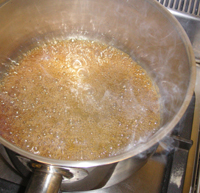 Murphys Caramel Sauce Recipe
Ingredients:
200 g Sugar
50 ml Water
150 ml of Milk
50 ml of Cream
1. Put the sugar in a large saucepan and evenly pour water over it.
2. Place over medium heat without stirring, until the sugar solution turns a deep amber colour, and most of water has evaporated.
3. Take off the heat and add the milk.
4. Immediately add the cream and stir vigorously. (If you don't add it immediately, the sauce will go lumpy).
5. It may be necessary to reheat in order to fully dissolve the ingredients.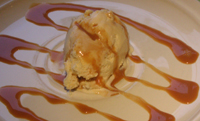 Note: If you have problems cooking the sugar evenly and it starts to brown only at the edges, you can use a whisk to stir it, but you might have to pass the finished sauce through a sieve as it tends to make the sugar clump…
By the way, I know that not everyone can eat sugar, and regarding diabetics, I'm still on the frustrating search for a natural way to make diabetic ice cream. If anybody has any ideas…
Finally, thanks to Conor O'Neill for providing this link regarding chocolate and health. It helps with my chocolate is not a sin argument!
Technorati tags: caramel, sugar, recipe, sauce, ice cream, Irish
File as: Recipe1
We have been spending a lot of time these days talking about chocolate, and being chocoholics there are worse conversations to have!
Over the last six years, we have had an on-going discussion about Valrhona vs. Callebaut. We originally used the Callebaut for everything, then switched to Valrhona two years ago. The difference in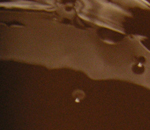 taste is immense – the Callebaut is deep and rich, the Valrhona is clean and simple on the palate. Valrhona is a much smaller company, and they have a top reputation among the gourmet community. In terms of eating chocolate, we wouldn't touch another. But things get complicated with ice cream. Often "cruder" flavours taste better when they are combined with the ice cream mix…
In any case, we did a test for chocolate sauce using both, and liked the Valrhona better on its own, but the Callebaut better when served over vanilla ice cream.
If you want to try our recipe, here it is:
Murphys Ice Cream Chocolate Sauce
150 gm chocolate (Valrhona Araguani or Callebaut 72% is what we used. If you can't find either, just use a very good quality bittersweet chocolate. Note that it will only taste as good as the quality of chocolate you use!)
75 ml cream (42% fat)
20 gm cocoa (We use Green and Black Organic)
175 ml milk
75 gm sugar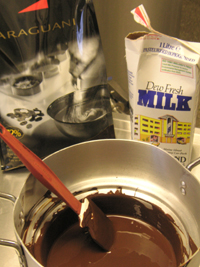 Follow these instructions carefully if you want a velvety, glossy result:
Melt the chocolate in a double boiler to between 34 and 45C (you can use a mixer bowl in larger pot with water in it)
Mix together the sugar and cocoa.
Put in a pan with the milk and warm to about 45C until dissolved.
Add the milk mixture to the melted chocolate in small parts, mixing in between until it's incorporated. Keep this up until you have a smooth emulsion. (The chocolate will clump at first and look dreadful, but don't worry, trust the process!)
Add the cream.

Technorati tags: chocolate sauce, cocoa, chocolate, ice cream, recipe 
You are currently browsing the archives for the Candy, sauce category.
Recent Comments

Grannymar: Sounds wonderful, Kieran, but I feel left out. Maybe by the...
Grannymar: Wrong colour for today, Kieran! Now I have an excuse to go down to...
Courtney: This sounds extremely appetizing if you are a fan of fresh mint,...
Courtney: This sorbet looks really light and perfect for a summer occasion....
Courtney: This ice-cream sounds perfect for the spring and summer seasons....
Courtney: This butterscotch recipe looks very interesting. The first thing...
Courtney: This recipe looked really good which is what initially grabbed my...

Recent Posts

Categories

Archives