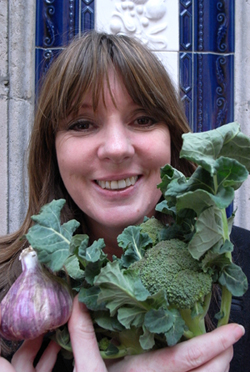 Today's Irish Times Magazine has a review I wrote of Niki Segnit's Flavour Thesaurus. I met her recently in Dublin and had a great conversation about food.
Anyway, here it is (unedited version):
If you know the kind of person who might buy a piece of Gruyére on impulse only to have it stare at them balefully from the fridge when they can't quite decide what to do with it, or perhaps someone who is a slave to their cookbooks, someone who complains that cauliflower is boring, or in fact anyone who likes their food, you could do much worse than wrap them up a copy of Niki Segnit's Flavour Thesaurus this Christmas. It's a book that's taking the food world by storm, and both professional and home cooks will find plenty of inspiration inside.

Segnit has compiled 99 foods, divided them into groupings such as "Creamy Fruity," "Earthy," "Meaty" and "Green & Grassy," and has created flavour pairings for all of them. Cauliflower (grouped as "Sulphurous"), for example, she describes as "broccoli that can't be bothered… keener on the quieter life, snug under a blanket of cheese." Pairing suggestions for cauliflower include almond, anchovy, caper, chilli, chocolate, cumin, garlic, nutmeg (apparently a favourite dish of Louis XIV), saffron, truffle, and walnut. As intimated above, it also includes hard cheese, which means you've just found a use for that Gruyére. The chocolate pairing sounds odd, but if it's good enough for Heston Blumenthal, who created a chocolate and cauliflower risotto, it's good enough for me.

If you don't care for cauliflower, how about beef and cinnamon, pork and apricot, black pudding and mint, or even partridge and pear as an alternative to dry turkey at christmas? The last one you'll find under the "chicken and pear" section, which is an example of the stream of consciousness quality of the book. An entry might start with pairing liver with oily fish and morph into an ode on ankimo or monkfish livers, which are a great delicacy in Japan. This is not a recipe book, although there are some recipes. It's not even strictly a guide to ingredients that go well together, since that could be quite boring. It's a compendium of ideas, combinations, and tidbits, penned in a very colourful style.

She describes anchovies and olives as like "a couple of shady characters knocking around the port in Nice. Loud and salty, they take a simple pizza margherita and rough it up… a detonation of brininess every few bites." Parsley and caper are "a pair of green avengers, battling the palate-numbing tedium of fried foods. Pitch them, possibly in the form of a salsa verde, against fried aubergine slices, battered fish and crumbed escalopes." As for peach and vanilla, "As a society lady at the turn of the twentieth century, you were nobody until you had a peach-based dessert named after you." The lucky ones included Sarah Bernhardy (pêches aiglon), Blanche d'Antigny (coupe d'Antigny), Princess Alexandra, and Empress Eugénie, "whose eponymous dessert was further garnished with wild strawberries and served with a champagne sabayon."

Niki Segnit started writing when she was made redundant from a high powered job in food marketing, and the idea of the book came to her when she was trying to expand her culinary horizons. She explains that her grandmother didn't have any cookery books, her mother only had a couple, and that Niki herself couldn't cook without them. It's the transformation of cooking using inherited skills based upon a deep understanding of limited ingredients and a limited repertoire, to our current limitless cookery options. With ingredients readily available in our shops, we could readily cook up Thai curried fish, saag paneer or saltimbocca for tonight's dinner, but we don't have the traditional knowledge and skills that would have come growing up with those dishes.

"We've become 'Jack of all trades' in the kitchen," she says, "with an increasingly wide repertoire. That means, however, that I was entirely dependent on my cookbooks. How could I even begin to think about substituting flavours?"

For Segnit, becoming a creative cook and liberating herself from increasingly creased and food-spattered books meant exploring the concept of culinary fusion. The playfulness and joy she found visiting molecular gastronomy restaurants epitomised the opposite of cooking as drudgery, and she started looking for books that gave a list of interesting flavour combinations. There weren't any, so she started writing one. She says the book was really composed for herself, with the idea that if she could extrapolate food from the recipe context she could get her brain working and reclaim cooking as her own. Believing that most of us don't use the sense of taste to its full potential, she wanted to build a library of tastes in her head, tastes that could help unleash creative cooking.

The Flavour Thesaurus will no doubt encourage thousands of cooks to push the boundaries of their cooking and explore new dishes. It is a welcome addition to the age-old conversation on improving the taste of the foods we eat, and it's quite hard to dip into these pages and come out without salivating. Did you know, for example, that in Scandinavia and Baltic countries, beetroot is commonly paired with salty fish? "The fish and beetroot are mixed with onion, potato and apple and dressed with vinegar or maybe a mustardy mayonnaise. The dish is called sillsallad in Sweden and rosolje in Estonia." Not your thing? How about coffee and black currant or rosemary and rhubarb? What are you waiting for? Get cooking!
Technorati tags: niki segnit, flavour, thesaurus, book, review