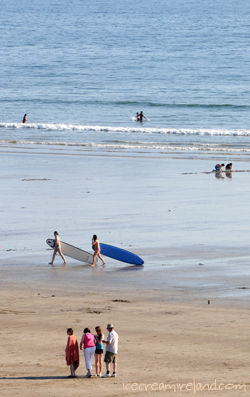 After a cold and rainy May, summer has arrived, and what an arrival it has been. Today was a day warmer than any in 2008. and I certainly don't remember one as warm in 2007. The beaches were packed, the sun hats and shorts were out, and people were smiling more than I've seen in months.
In Dingle, sand from Ventry and Wine Strand came in with sun-kissed customers, and the mood was relaxed in a way that only happens when expectations of a holiday are exceeded. In Killarney, locals wandered around Main Street as if lost in their own town – a place already beautiful but transformed by sunshine and heat into the South of France, perhaps, or some place just as pleasant. 
These perfect days are not the busiest in our shops, as people leave town to make the most of the weather. We, however, don't mind at all, for the sunshine brings out all of the splendour of Kerry, and those who experienced it will spread the word and return themselves. Best of all, however, was that a bank holiday like this was a great gift for a country struggling with difficult times. For these few days at least, people forgot their worries and remembered just how very good life can be.