Perfect Place for Luas Snacking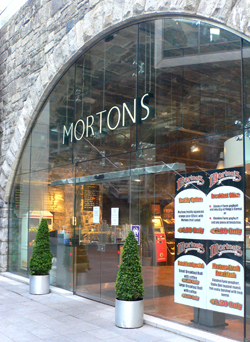 Perhaps the prettiest food shop I've seen in Dublin is Morton's new shop on Park Place, Hatch St. Just around the corner from the Harcourt Luas stop (in fact it's on the other side of that facing stone wall), the shop is not located in a great position for being noticed, since you have to walk around the corner, but it's definitely worth a look, especially if you're feeling hungry around lunch time. Anyone who knows the original Morton's shop in Ranelagh, will know they take their quality seriously and have enough variety of tasty treats to delight any foodie. Give it a visit, if you're in the area, and grab something to nibble on the way home!
Technorati tags: Dublin, food, harcourt, Mortons
This entry was posted on Thursday, April 23rd, 2009 at 4:49 pm and is filed under Dublin. You can follow any responses to this entry through the RSS 2.0 feed. You can leave a response, or trackback from your own site.