Best Chocolate Ever?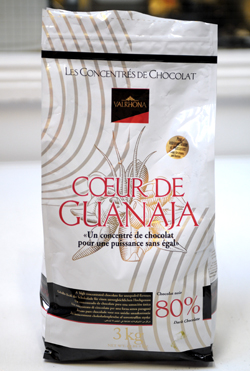 We've gotten our hands on the newest chocolate by Valrhona - Coeur de Guanaja, and the results of our first tests have been astonishing. This 80% chocolate has higher cocoa mass and less cocoa butter than normal chocolate, which makes it possible to get more chocolate taste in ice creams, pastries, and other applications. It's not cheap (understatement), but it sure tastes fabulous in ice cream.
In fact, our first test batch amazed everybody here – silky, extra strong chocolate hit, and decadent consistency. I'd have posted a photo of the ice cream, but I'm afraid we gobbled it all down before I could do so…
Technorati tags: chocolate, Valrhona, 80%, Coeur de Guanaja
This entry was posted on Friday, December 5th, 2008 at 6:47 pm and is filed under Chocolate. You can follow any responses to this entry through the RSS 2.0 feed. You can leave a response, or trackback from your own site.