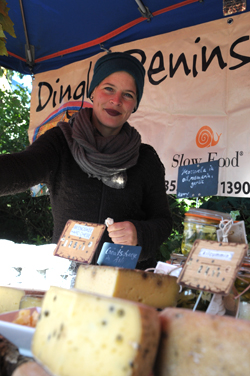 It's all done! I've finished with the Blas na hÉireann National Irish Food Awards for at least a year. The judges have done their work and picked the winners, the awards ceremony is over, and I'm quite happy with the way things went, especially since it was our first year. We received so much help from so many people, and thanks to everybody. I would like to especially thank all the Irish food producers who went to considerable trouble and expense to enter the awards and it was a real treat to see many of them and their food in Dingle over the weekend.
We had quite a range of medalists, from big companies to small companies all across Ireland. There might be a little bit of controversy among some quarters in that some larger companies won, but it was a blind tasting, and it was taste that decided things.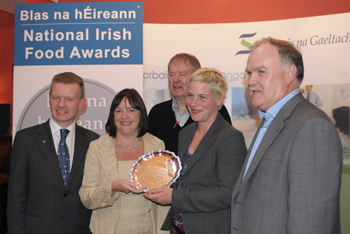 The grand champion, the entry rated highest of all the products by an extremely distinguised panel of judges, was Dingle Penisula Cheese's – "Semi-hard cow's milk with seaweed" (photos of cheesemaker Maja above at the market and right with her award). I am absolutely delighted for her.
The full list of winners is here, and congratulations to every one of them. To win any kind of a medal with such a huge number of entries was a massive achievement. Next year, there will definitely be more categories!
I really hope that this whole process will bring more attention to the fact that food is something we're good at here in Ireland, and that small (as well as large) food producers are a vital part of our economy and our way of life.
(And in case you're wondering, we didn't enter our ice cream since I was an organiser of the awards.)
Now, how do I unwind?