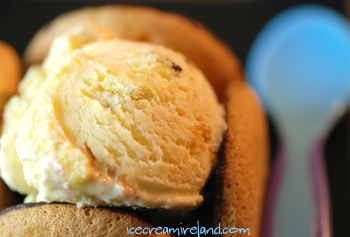 This was one of our very first ice cream formulations and has proven very popular of the the years. In fact, there is a certain little girl whose first word was reportedly "Jaffa" when demanding this flavour from her parents. It's a crowd-pleaser, with shredded bits of Jaffa cakes as well as another British invention – marmalade.
Marmalade goes way back (the Oxford English Dictionary cites 1480 as the first usage of the word) and is generally made with citrus fruits – orange being the most popular option. As citrus fruits became more available in Britain in the 16th century, marmalade became a choice sweet. In fact, anyone who has travelled in the UK will be hard put upon to remember a traditional breakfast without the option of these preserves and toast.
We like to use the marmalade as a base flavour and freshen it with orange zest. The great thing about orange zest (besides its magnificent taste) is that it uses a part of the fruit one would normally just throw away or compost, and that always is a pleasure.
ORANGE JAFFA (ORÁISTE) ICE CREAM
Ingredients:
130g sugar
5 egg yolks
240 ml cream
200 ml milk
Zest (grated peel) of half an orange
50 g marmalade
4 Jaffa cakes
What to do:
Add the orange zest to the milk and bring to a simmer.
Remove from the heat.
Beat the sugar and egg yolks together until thick and pale yellow.
Beat the milk into the eggs and sugar in a slow stream.
Pour the mixture back into the pan, and place over low heat.
Stir continuously until the custard thickens slightly (around 65-70C) and just coats the back of a spoon. Don't over-heat, though, because at around 76C you will scramble the eggs!
Immediately remove from the heat. Sieve if you want to remove the orange zest.
Stir in the marmalade.
Transfer the custard into a small container, cover, and refrigerate until cool (5C).
Whip the cream until it has doubled in volume (you should have soft peaks – don't over-whip).
Fold the cream (gently stir) into the custard.
Shred the jaffa cakes into small pieces.
Freeze using a domestic ice cream machine, adding the jaffa cakes when it's semi-solid. You can also just cover and place in the freezer, stirring every few hours, and again, add the jaffa cakes when it's semi-solid.
If you're using a domestic ice cream machine, transfer to a freezer-proof covered container when the ice cream has achieved a semi-solid consistency (around 15 minutes). Place it in the freezer, and continue to freeze until it is solid.
Note: To pasteurise the eggs, heat the custard to 73C and maintain that temperature for at least 5 minutes. Use a cooking thermometer, though! If the custard goes any higher than 76C, the eggs will scramble. Immediately cover and place in the freezer until cool.