Caffe Latte Poll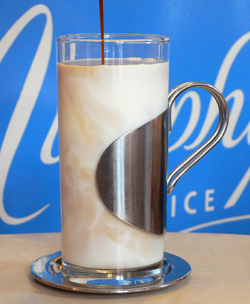 As we look at what we put on our menu boards for our shops in 2008, I was wondering about flavoured lattes. We already have the option of a Latte al Caramello (caramel latte), have played around with other flavours, and should we offer them all the time?
Please take part in the following poll, and feel free to comment if it is too restricting!
n
My favourite flavoured caffe latte is:
Vanilla
Cinnamon
Caramel
Other (please pass on suggestions via a comment!)
Flavoured latte? Never!
Total Votes: 159
Started: 18 December, 2007
Back to Vote Screen
Technorati tags: coffee, flavour, caffe, latte, poll
This entry was posted on Wednesday, December 19th, 2007 at 1:57 pm and is filed under Coffee. You can follow any responses to this entry through the RSS 2.0 feed. You can leave a response, or trackback from your own site.