Election 2007 – Breeda Moynihan Cronin, TD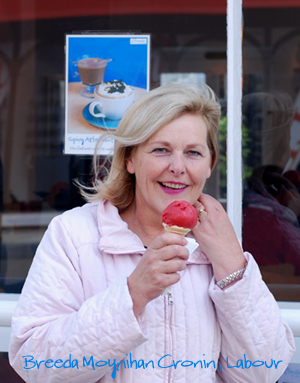 Here's the fourth in the series of candidates with ice cream. My mother met the chairperson of the Labour party and TD for South Kerry on the street in Dingle and enticed her to our shop for a photo.
Ms. Moynihan Cronin was delightful to meet in person, and she was happy to find a dairy-free option in our Raspberry Sorbet. She has a house in Ballydavid and apparently some nieces mad for our ice cream. If the opposition get into power, she is bound to be appointed a minister.
Here's the fact file:
(In case you were wondering, the poster behind her is for our Aztec Hot Chocolate, recipe here.)
Technorati tags: candidate, Irish election, Moynihan Cronin, Labour Party, ice cream
This entry was posted on Saturday, May 19th, 2007 at 6:52 pm and is filed under Caught with Ice Cream. You can follow any responses to this entry through the RSS 2.0 feed. You can leave a response, or trackback from your own site.