Archive for January, 2007
Seems like a viral thing is going around, and I have to blame Conor for getting me involved. Still, I'll be a sport, especially since I've had an attack of blogging laziness over the past few days, and this might get me back in the swing…
So, five things you don't know about me, the ice cream man: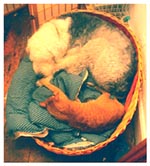 1. My brother Sean and I used to share a house near Dingle, and when he decided to go and get married (and I got turfed out), there was naturally a custody battle. 
After all, we both raised the two wee ones, who had grown up together since they were babies and had overlooked all their natural differences and propensities to become best of friends.
In the end, Sean and I settled amicably. He got custody of the dog, and I the cat. We both get visitation rights…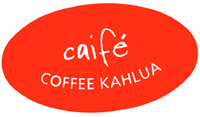 2. People always ask my favourite ice cream flavour, and I usually dodge the question (after all, it can change). I'll go out on a limb here – my favorite ice cream flavour is our Caifé. Espresso, Kahlua, and chocolate shavings. It combines my three favourite things – coffee, chocolate, and ice cream. The booze is a bonus!
3. I have a degree in philosophy. So why ice cream, you ask? Well, I could get philosophical about it, but instead I'll just say it's better than drinking a cup of hemlock…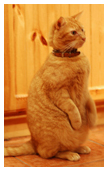 4. Maybe it's my philosophical nature, but I believe cats can be trained as well as dogs to do tricks. Of course, you do need infinite patience, but I've proven it is indeed possible. My latest project is to teach an old cat new tricks, and I thought it would be fairly winning if the fellow could beg. Don't believe me? See the picture introduced as evidence…
5. I can ride a unicycle.
Now, who can I annoy in turn? Julian, Caroline, Auds, Finbarr, Sophia
Technorati Tags: Five Things, tags, ice cream, favourite flavour, cat, dog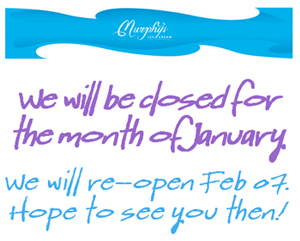 It's always a nice feeling when we close the shops for the season, and this year we kept Dingle open much longer than we ever have, mirroring our shop in in Killarney, which stayed open last year until the end of December. Both shops will be closed for one month. It allows our staff to catch up on vacation time, although a few of us are still around in production to make the ice cream to distribute to shops and restaurants. Still, even there it will be quiet.
For our shops, we have a little window of opportunity to paint, prepare, and see what we can do to improve things in 2007. It's not much time, really, and it always goes quickly. It's nice to look ahead to a year full of promise and fill the head with dreams of ice cream…
You are currently browsing the Ice Cream Ireland blog archives for January, 2007.
Recent Comments

Grannymar: Sounds wonderful, Kieran, but I feel left out. Maybe by the...
Grannymar: Wrong colour for today, Kieran! Now I have an excuse to go down to...
Courtney: This sounds extremely appetizing if you are a fan of fresh mint,...
Courtney: This sorbet looks really light and perfect for a summer occasion....
Courtney: This ice-cream sounds perfect for the spring and summer seasons....
Courtney: This butterscotch recipe looks very interesting. The first thing...
Courtney: This recipe looked really good which is what initially grabbed my...

Recent Posts

Categories

Archives