Killarney National Park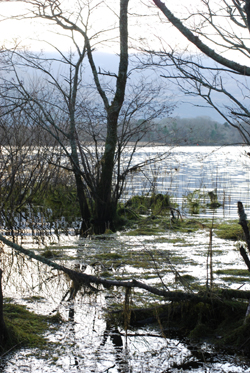 Killarney doesn't really have the best reputation among many Irish people, who view it as a tourist trap. However, there are reasons that it has been popular among tourists, both foreign and national, for so long (my great grandfather used to visit it from Cork). The top reason is the National Park, with its mountains and lakes. Whether for hiking, strolling, boating, or simply walking the dog, it's a treasure.
Even in the depth of Winter, the beauty is stunning. I managed to sneak an hour of walking in yesterday, and I've made a vow to make more of the park on my frequent trips to Killarney to visit our shop there. It's such an amazing resource…
Technorati tags: Killarney, Kerry, national park, Ireland
This entry was posted on Saturday, January 27th, 2007 at 12:15 pm and is filed under Killarney. You can follow any responses to this entry through the RSS 2.0 feed. You can leave a response, or trackback from your own site.