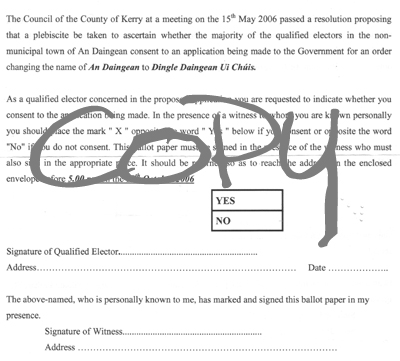 Here in Dingle/An Daingean/Daingean Ui Chuis, we have received our ballots for the plebiscite regarding the name change.
Two interesting points:
It's hardly a secret ballot, since you have to sign and put your address as well as having it witnessed. That doesn't seem to make sense in terms of the rules of referenda which refer to secrecy… 
There has been much made in the press about the Irish vs. the English name, but there is another big factor – there are few Dingle people that I know who consider "An Daingean" to be the correct Irish name – it's "Daingean Ui Chuis". So the "yes" camp includes the unlikely pairing of Irish language purists and anglophiles…
I always feel happy for referenda – it's power to the people and true democracy at work. However, I don't believe the plebiscite is binding so it will be interesting to see what comes out of it.
The deadline for the ballot is October 19th, and whatever happens, Dingle/An Daingean/Daingean Ui Chuis will be happy for all the publicity …
Technorati tags: Dingle, An Daingean, Daingean Ui Chuis, name, plebiscite, ballot