Today was quite warm and it's getting time to think about the beach again.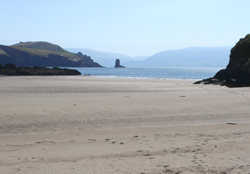 Of course, Summer is at happy time in the world of ice cream, but it's also a great time to be in Dingle.
For some reason, visitors to the peninsula usually keep heading West. Ventry, Dunquin, Ballyferriter and Ballydavid have a great pull. However, there are some lovely spots just East of Dingle town that are just as beautiful and far less crowded.
Doonshean is my favourite beach on the whole peninsula, and even the path leading to it is magically scented with woodbine and blackberry blossoms. The water is clean and the waves hits the beach straight on, making it ideal for bodysurfing or swimming. And the sand is white and perfect.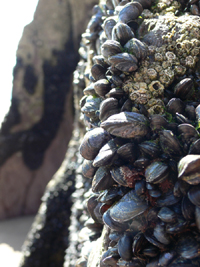 There is, however, a catch. It's only at it's best at low tide, when the water pulls back to reveal a whole series of sandy coves that let in the sun and keep out the wind. At any other time, there are better beaches, and at high tide, there is very little beach at all. So check out your tide tables first!
One small word of warning – on the left of the beach there is a strong and dangerous riptide. Stay to the right, and it's perfectly safe.
To find it, head out the Tralee road from Dingle, and turn right at the first real road (it's marked "Dun Seanna"). Take the next left, and follow it for a couple of miles until the road forks. Take right fork and follow it to the beach.
If you see anyone (and it's unlikely except high season), don't tell them it was me who passed on the (loosely guarded) secret of this lovely spot!
Technorati tags: Dingle, Irish, Doonshean, beach, summer, tourism