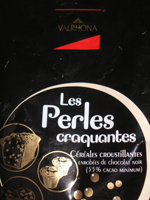 Still on the subject of chocolate, I received a sample yesterday of Valrhona crunchy chocolate pieces from our supplier Odaios (see left). It surely is a wonderful thing to be in this business and get such presents! I'm practically sick from them; they are so good, and the sample size is so large! If there are any left on Tuesday, they will make a great addition to a batch of ice cream.
The factory was also brightened by the lovely Clodagh McKenna and Aoife, the producer for the excellent RTE radio show Winter Food. They recorded us and various factory noises. We should be on next Saturday's show so listen in if you can.
Clodagh wanted a recipe for ice cream. I was thinking of white chocolate and rose water. I guess I can't get chocolate off my mind!
Since I can't, I might as well mention that my friend Conor brought back chocolate covered espresso beans from Caffe Sant'Eustachio in Rome, who make some of the best coffee in the world. As I munch away I think that it's a pity he couldn't bring back a cappuccino to go with them! Happily the Dingle shop will be open on Wednesday, and I'll be back in the coffee again.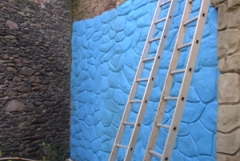 As we're on that subject, I have been trying to do something with the interior courtyard in the shop. We inherited a half-plastered wall and have left it that way for the last six years. Finally I've decided to tackle it and tried painting it with a wash of our blue. It's a bit electric, though. I don't know what I think! I should be in there today painting away and getting ready for the opening, but I'm feeling lazy and besides we've given over the shop to the West Kerry Mental Health Assn for the weekend so they could raise some money by selling books.
Finally, this whole blogging thing is still quite new to me, but it's quite exciting to see what's out there, and what they are writing about. conoroneill is an interesting gourmet site, and I just did a search to see who's writing about our company, and he was one of them! Sometimes one can feel a bit isolated as a foody in a rural part of Ireland (mind you, Dingle has its fair share), and this should help!