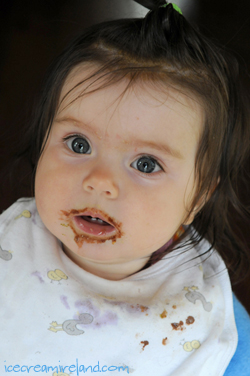 Yesterday, I took a day off, and since my partner had to take photos for the Dingle Film Festival, I had even more time than usual with Róisín. I know it's been said before, but there is such an awful amount one can learn from a 10 month baby. She has just started to really notice her surroundings, pointing out things of interest, and it's hard not to be swept up in the wonder of the most mundane objects (see video below).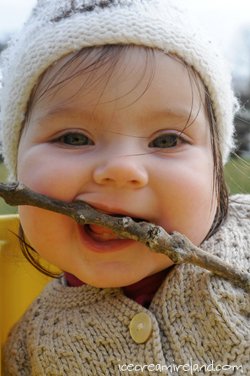 With food as well, there is such a sense of joy, playing and exploration. Her encounter with a chocolate-covered biscuit (photo above) was quite amazing (although her mother wasn't impressed), and of course everything, including sticks from the garden (photo right), end up in her mouth.
I think that keeping that sense of newness is always important in businesses as well as life, and even though sleep has been a bit of a challenge, I really have found having a baby has helped in so many ways with work.
Understanding the preciousness of life, responsibility, caring, joy, wonder, love – these are all things I try to carry into my days making and selling ice cream.
Work has its stresses, the news all around us can be depressing, but thanks to Róisín, there is now not a day that passes when I don't give thanks for what I have.
She truly is precious.